Recipe card has a lot of benefits for its users. One can use recipe cards to keep record of their favorite recipes and recipe card template is a superb way to design recipe card using a personal computer in graceful layout and style. You can get a free recipe card template from this page to make your own recipe cards.
Recipe card is a best advertising tool of food recipes and dishes. This card is mostly used by the kitchen expert and chefs. This card is used for the advertisement and making recipe books. This card may be designed in a beautiful way and may be it is a simple sheet of paper that contains the delicious images of dishes and recipes. The list of ingredients and instruction about the recipes and procedure for making this dish include in this recipe card that provide help you for making your favorite dish. Using this card you can save different dishes for your own use and enjoyed verity of dishes. Many hotels and restaurants used this card for the advertisement and increasing the food sale. Here we are presenting our prepared and professional designed recipe card template which is specially designed according to your requirement. This template is prepared by our professional designer and color selection used in this template gave a very professional look. Find below you can see attractive image of our provided recipe card template. We have designed this template in MS Word so you easily change text, color, image in this template as your personal requirement. We provided you a download button below this image for downloading this template. You just click on button and make template for your own.
Here is a preview of this recipe card template.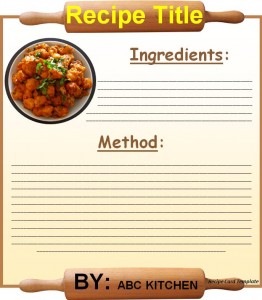 Click on the download button and make this recipe card template your own.