You can customize this free gift certificate template for free to make and print custom gift certificates for your business or company. Gift certificate is a printed piece of paper having a specific monetary value and often an expiry date. These can be used for variety of purposes. You can give a gift certificate to your friend or family member on his or her big day as a best gift. Majority of companies and business establishments are using gift certificates to provide their customers discounts when purchasing company goods or services. Gift certificate can be designed easily with help of this free gift certificate template.
Gift certificate is a well designed piece of paper that is given to the people in different occasion and event. This certificate is given to the person for different reason like, birthday, anniversary, valentine's certificate and shopping certificate. This certificate is issued by the banks and companies to their employees and any person send to their beloved and family member and friends as a gift. This certificate contain sender and recipient name, amount, date, day, purpose of sending gift certificate etc. if you confuse for the selection of the gift to your beloved once  so gift certificate is a best things to send your gift without any confusion. Here we present our prepared nice and best gift certificate template. This template is prepared by our professional designed and designed this certificate according to your requirement. Beautiful color selection and picture give a very stylish look in this gift certificate template. Given below you see eye catching preview of gift certificate template. This template is Microsoft word format so making and changing in this template is very much easy. For downloading this template we inserted a download button below this image you click on this button and download template for your own use.
Here is a preview of this free gift certificate template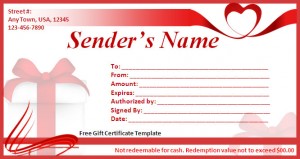 Click on the download button and make this free gift certificate template your own.